MLS
®

 Laser Therapy Case Study
Tosca, a Labrador with Biceps Tendinopathy
Species: Dog
Breed: Labrador Retriever
Gender: Female
Age: 8 Years
Name: Tosca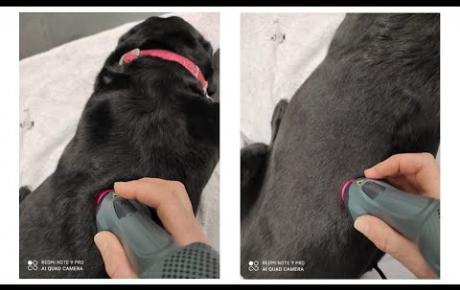 Clinical Case
Tosca is a guide dog which has been living with its visually impaired owner for 6 years. About 6 months ago, the owner realized that Tosca limped occasionally, but in recent days the situation worsened.
Clinical Examination and Diagnostic Tests
When examined, Tosca showed some slight pain at the shoulder level. A neurological test was also carried out but nothing unusual was detected. The lab tests showed no anomalies.
X-rays and an ultrasound scan of the shoulders were carried out for further in-depth analysis. The exams showed ultrasound evidence of mild biceps tendinopathy to the left and the presence of sporadic solitary hypoechoic masses in the right joint.  
Treatment Plan

A rehabilitation treatment plan was suggested for Tosca:
MLS® Laser Therapy applications twice a week together with work on an underwater treadmill for at least 1 month. MLS® Laser Therapy was carried on the shoulders and back in order to counteract the contractures which had developed due to the chronic nature of the situation.
At the same time, it was also suggested that the guide dog harness in leather should be substituted for a lighter one in nylon, as it was suspected that it may have worsened the clinical picture. MLS® treatment was by points on the joints of both shoulders. The total number of sessions was 8: 2 per week, every 4 days. Supplements in order to help maintain joint functionality were also prescribed.
Results
At the end of the month's treatment, Tosca improved and her gait became normal again, although there are rare episodes of intermittent lameness.
The owner decided to continue maintenance sessions and Tosca currently undergoes 2 monthly treatments of MLS® Laser Therapy and works out on the underwater treadmill.
Courtesy of Doctor Lili Asnal – Patagonia Veterinary Clinic, Castelfranco Veneto (TV), Italy