Advancements in Veterinary Surgical Laser Technology:
Cutting Edge Laser Technologies, an industry leader providing premium surgical and therapy laser technology to the veterinary market for nearly two decades, has launched a new 40 Watt CO2 Surgical Laser System. The 40 Watt CO2 Laser builds on the success of previous models to deliver an unprecedented 25 watts of power in Super Pulse mode, an improved user interface, and more efficient CO2 canisters.
These significant advances improve clinical outcomes and provide for easier and more convenient operation, while lowering the overall cost of ownership.
Carbon dioxide lasers are the standard for soft tissue surgery in small and mixed animal practices. For many general practitioners,CO2-generated energy applies to the broadest range of uses in soft tissue cases with the least negative impact on surrounding tissue. The 40 Watt CO2 Laser System is equipped with SmartPulse™ technology capable of reaching 25 watts of power in Super Pulse mode – minimizing tissue trauma and reducing bleeding to encourage rapid patient recovery.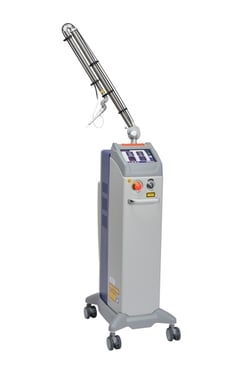 "Cutting Edge's newest laser really is a Cadillac as far as lasers are concerned," said Peter H. Eeg, DVM, author of Veterinary Laser Surgery and founder of the Veterinary Surgical Laser Society. "It allows me to be very effective in my removal of tissue, minimizing any trauma to the surrounding tissue, minimizing any damage to the area, minimizing blood loss, maximizing recovery, reducing pain. It's allowing me to do the best job I can do as a general surgeon for my patients."
Traditional CO2 lasers are equipped with glass tubes that contain CO2 gas. When excited by electricity, carbon dioxide creates the photons used for surgical cutting. The metal CO2 canister of the 40 Watt CO2 Laser is more efficient than glass in its ability to produce the photons used to vaporize tissue. What's more, they boast a 2 to 3 year longer lifespan than traditional glass tubes. This, coupled with our standard, cost-saving autoclavable hand pieces, significantly reduce the recurring costs associated with previous surgical laser technology.
Additionally, the balanced articulated arm offers maximum maneuverability, providing 360⁰ hand piece rotation, on any axis. An aiming beam allows the surgeon to see exactly where the laser energy will be applied to the patient before the energy is engaged, delivering superior incision efficiency while minimizing collateral tissue damage.
The on-board surgical reference guide is now accessible with a redesigned user interface which has doubled in size. The program is easy-to-use and includes preset programs which allow staff to manage pre-surgical preparation of the laser. Automated system calibration further expedites use as there are no delays associated with daily calibration.
"We've found that many veterinary practices with an existing CO2 surgical laser are facing higher and higher servicing costs," said Mark Mollenkopf, President, Cutting Edge Laser Technologies. "Our move from glass tubes to a more efficient metal canister is all about providing better technology at an overall lower cost of ownership. Combine that with the fact that the 40 watt does not need costly tips or waveguides and comes with an unprecedented worry free 5-year warranty, and you've got a more powerful, more profitable practice tool."
The new 40 Watt CO2 Surgical Laser from Cutting Edge Laser Technologies is available now to order with an optional trade-in credit for aging surgical laser models.