THE TECHNOLOGICAL LEADER 
The innovative and patented Multiwave Locked System (MLS) Therapy Laser was developed in an effort to produce an efficient and simultaneous effect on pain, inflammation, and edema, exceeding the limits of traditional LLLT (low power) and concerns of HP (high power) laser therapy. Unlike early-generation Class IV technology, MLS Laser Therapy has the capability to deliver controlled laser energy. This unique feature provides more accurate therapeutic dose delivery, which means consistent and repeatable results.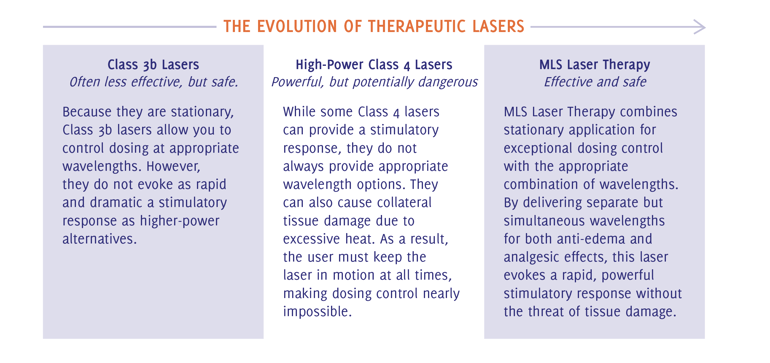 MLS technology delivers therapeutic wavelengths, 808nm and 905nm, allowing a tissue penetration depth of 3-4 cm. An energetic synergy is created when delivering these wavelengths that produces greater anti-inflammatory and analgesic effects than either can produce on its own, while minimizing the risk of thermal damage. It is this unique combination and synchronization of continuous and pulsed emissions that characterizes MLS and distinguishes it from other Class IV lasers.
What is MLS Laser Therapy?
MLS stands for Multi-Wave Locked System. The MLS Therapy Laser treats pain, inflammation and arthritis.
The MLS Laser is a Class IV Laser and uses multiple synchronized diodes.
It features 2 wavelengths; 808 nanometers and 905 nanometers. The wavelengths are in the infrared spectrum. They are invisible to the eye, but can be seen using a cell phone camera.
The 808 wavelength is for inflammation, and is long lasting.
The 905 wavelength is analgesic and is fast acting. Together, they are very effective.
The MLS wavelengths combine and synchronize the 808nm and 905nm in a unique and proprietary way.
The MLS wave form is patented.
There are over 3,000 studies performed in the last three decades that validate the efficacy of laser therapy.
The laser can penetrate 3-5 cm deep and generates no heat. There are no known harmful effects.
How Do Lasers Work?
Laser energy stimulates cells to remove toxins, like histamine and cytokine, out of cells.
They allow oxygen and food loads into the cell.
They block the pain signals to the nociceptors in the brain, and release endorphins and encephalin.
Laser light increases ATP production and cell growth. It brings blood flow to the area and increases angiogenesis of capillaries.
MLS Laser Therapy can actually increase healing time by 30-40%.
In fractures, it will increase osteoblast production within the first 10 days only.
In a nutshell, the MLS Laser stimulates the mitochondria in cells to jump start the body's own healing process.
Like an antibiotic, each treatment is cumulative in its effectiveness, building off the previous treatments.
Acute patients will need 6 treatments every other day for 2 weeks. Chronic patients will need 10 treatments every other day for 3 weeks.
Acute patients may experience relief before they leave the office; the maximum benefit will be experienced in 5-7 hours post treatment.
For chronic patients, it is important to let the pet owner know that it may take up to 4 treatments before they see any difference in their pet.
Lexi, a geriatric female labrador retriever, presented severe hind limb paresis. After receiving MLS Laser Therapy treatments with concurrent acupuncture over a 4-week period her condition improved dramatically!