Discover the MLS® Difference.
Integrate the world's most advanced therapy laser into your practice with a limited-time pricing.
Robotic M6 MLS® Therapy Laser
The only fully robotic and completely unattended Class IV therapy laser.
With a patented emission system and enhanced safety profile, the Robotic M6 MLS Therapy Laser offers unattended, hands-free delivery to improve practice productivity while providing optimal clinical effectiveness in managing pain and inflammation. 
Designed to treat patients suffering from pathologies affecting wide tissue areas, the M6 MLS Therapy Laser is the only robotized Class IV therapy laser. The exclusive Robotized ULTRA Head performs automatic applications to induce an immediate response in the treated tissue.
The only Class IV therapy laser with two independent channels.
Use the laser handpiece to treat small, targeted areas as well as eradicate pain points and trigger points.
Use the laser handpiece alongside the Robotized ULTRA Head to treat two different areas at the same time, or treat one area, such as a joint, from two different angles. 
Deliver controlled laser energy.
The patented emission system exceeds the limitations of traditional low-level therapy lasers by providing more efficient biostimulatory results with less energy in considerably less time. 
With an enhanced safety profile, this technology avoids concerns associated with other high-power Class IV therapy lasers, such as the risk for thermal tissue damage, allowing it to be the only therapy laser that offers a truly unattended delivery system.
No Out-of-Pocket Payments Until 2024*
$0 per Month for Months 1 to 3, then $99 per Month for Months 4 to 6, then $699 per Month for Month 7 to 72.
$30,000 Trade-in Value on Your Current Therapy Laser
Program Pricing Available Through June 30th, 2023. 
*Made possible with rebate amount of $297. With credit approval for qualified clinics. 
Interested in Learning More?
MLS® Laser Therapy is quickly becoming the standard of care in alleviating both acute and chronic pain.
This patented, FDA-cleared technology has an 85% to 90% efficacy rate in relieving pain and inflammation, eliminates risk from surgery and prescription pain killers, has no negative side effects, and restores patients' lives.
Speak to a Cutting Edge representative to learn how Robotic MLS Laser Therapy can improve patient care at your practice.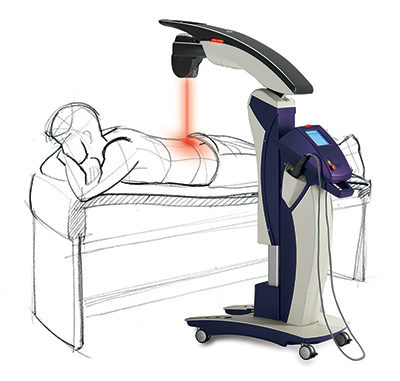 "What we're finding is that 90% of our patients are achieving almost 90% relief of their symptoms, which is unheard of. It is the very latest in medical technology, and we are proud to offer our patients something no one else can."