Proud Corporate Partner of the Wisconsin Chiropractic Association
Visit our exhibitor table to meet your local Cutting Edge representative, experience a hands-on therapy laser demonstration, and discover how MLS Laser Therapy can improve patient care while strengthening your practice's bottom line.
Robotic M6 MLS® Therapy Laser
The only fully robotic and completely unattended therapy laser.
With a patented emission system and enhanced safety profile, the Robotic M6 MLS Therapy Laser offers unattended, hands-free delivery to improve practice productivity while providing optimal clinical effectiveness in managing pain and inflammation.
The exclusive MLS multi-diodic optical group performs automatic applications to induce an immediate response in the treated tissue.
Treat Two Areas at the Same Time
The only Class IV laser with two delivery systems.
Use the laser hand piece to treat smaller areas and eradicate pain points and trigger points.
Interested in Learning More?
MLS Laser Therapy is quickly becoming the standard of care in alleviating both acute and chronic pain.
This patented, FDA-cleared technology has an 85% – 90% efficacy rate in relieving pain and inflammation, eliminates risk from surgery and prescription pain killers, has no negative side effects, and restores patients' lives.
Speak to a Cutting Edge representative to learn how MLS Laser Therapy can improve patient care at your practice.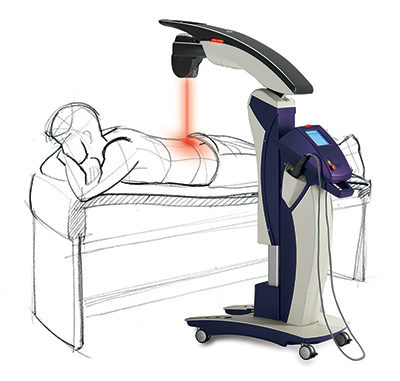 "We've been utilizing the MLS Laser in our office since 2011 and have seen great results for many conditions for which I did not previously have any other in-house service, such as neuropathy. The Cutting Edge MLS Laser gives us a distinct advantage over others in our area that do not offer this technology."